Milton Florsheim Chicago, Illinois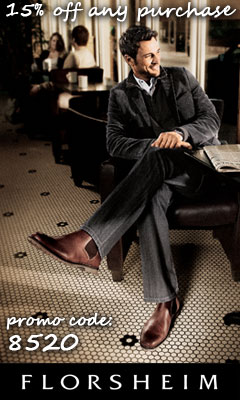 In 1892, Milton Florsheim began producing shoes in a small factory located in Chicago, Illinois. The first pairs of Florsheim shoes made by Milton and his father, Sigmund, were a remarkable combination of style, comfort and high quality workmanship.

Milton realized from the very beginning that a high quality product was only one of the factors necessary for success. He understood that a strong distribution network was the other key component and would be essential in making certain his exceptional footwear found its customers. Accordingly, he provided support that enabled a number of entrepreneurs to establish retail businesses, which made Florsheim shoes readily available to the consumers in hundreds of small towns and villages across the nation.

Thus, the Florsheim Company was formed on the breakthrough ideas of mass-producing shoes of exceptional quality, and the establishment of a strong, entrepreneurial dealer network. Not surprisingly, this combination was an immediate success.

Around the turn of the century, the company began exploring other innovative methods of distributing and selling its shoes that would enhance the already established network. These included expanding wholesale distribution to metropolitan areas around the country, and the opening of a series of company-owned retail outlets. These outlets became the Company's Flagship stores that displayed and sold the entire Florsheim product line. Now, the partnership that would help Florsheim grow from a small factory into a brand and organization valued and respected all over the world was firmly in place.

In May of 2002, the Florsheim trademark returned to its roots when purchased by Weyco Group. Weyco Group, located in Glendale, Wisconsin, is currently the headquarters of Florsheim Shoes. The senior officers of the company are fifth generation Florsheim and proud to revitalize their family business. Weyco Group envisions expanding their market by appealing to younger customers. Yet, the company still strives to maintain the quality and classic styles that makes us who we are. The first major step of development was the introduction of 'Dot Matrix' technology-an injected gel in a removable foot bed for added comfort. With the new generation of Florsheim offering flourishing ideas and innovative technology, Florsheim decided to add a phenomenal design team to further invest in the appearance of their shoes. Currently, the company is adding a state of the art design center that will be the envy of the industry and create synergy within our design team. Today, Florsheim continues to revolutionize designs and technology to meet the demands of every customer.

Weyco Group (Florsheim) has one of the best distribution centers in the country. With a state of the art conveyor belt system located in the Company's warehouse, Weyco Group is able to ship an average of 600,000 pairs of shoes a month. The conveyor belt system has also diminished a majority of the manual labor used in put aways, picking, packing, and shipping.

Through strong ideas like this, we will continue to forge even closer partnerships with our loyal dealers. In addition, we will continue to deepen our understanding of our customers' lifestyles and needs. Our on-going research into improved comfort and fit will expand. Our unparalleled selection of styles and sizes will grow. And our commitment to quality will never falter. Because even with all our success, we have never and will never change the fundamentals upon which Milton Florsheim established his company.